The International Tournament (1886-1996)
Membership Enquiry
By James Buddell – June 2004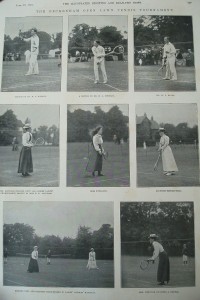 "We can imagine no prettier lawn tennis rendezvous than at Beckenham. The Beckenham cricketers are in ordinary possession of this enclosure, surrounded by fine old trees. Big, shapely, rounded by fine old oaks, glossy beeches, picturesque elms and hawthorns covered at present with red and white blossoms diffusing their sweet fragrance afar cut off the players off from the world. The prospect beyond the further fence is of park-like country, where sleek cattle graze over the luscious grass or camp during the noonday heat under clumps of tress. This is just the kind of place for the business of a tournament, and is the converse of the unlovely paddocks in which many associations meet."
The Daily News, 5 June 1886
Beckenham Cricket Club, established on land belonging to Foxgrove Farm in early 1866, has hosted a Davis Cup tie, warm-up matches for Wightman Cup ties, international hockey, women's test, county and varsity cricket and squash matches. But it is famously associated with the Kent All-Comers' Championships.
Watch from the British Pathé Archive
Women's Test Cricket Match, 1930
Beckenham Tennis Tournament, 1935
Varsity Hockey Match, 1938
Each June for 110 years, from 1886 to 1996, the cricket outfield at Foxgrove Road was transformed into an international tennis venue. Major and world champions, and players of every nationality, thumped the grass and the event became affectionately known as the "Dress Rehearsal for Wimbledon".
View Kent All-Comers' Championships Roll Of Honour
During the spring of 1886, some Beckenham Cricket Club members – Edward J. Avory, S. Burd, Walter Gregory, A. M. Inglis, R. B. Lemon and A. Pearce – formed a committee, with G. V. A. Schofield as Honorary Secretary, with the intention of holding a tennis tournament during the summer. N. L. Jackson, 'Pa' Jackson of Corinthians fame, was appointed the Referee and Handicapper.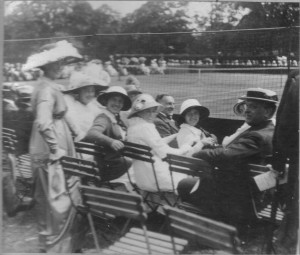 Ten courts – five doubles and five singles – were laid out and on 1 June 1886 the first Kent All-Comers' Championships began. The bearded and ambidextrous Herbert Chipp, later a Wimbledon umpire, came through a field of 13 entries to capture the inaugural singles title over Beckenham committee member Avory. The Field informed its readers, "The final was a terribly tedious affair. Both players kept at the back of the court and played an excessively careful game." There were 14 pairs in the gentleman's doubles and seven pairs in the mixed doubles. The first event made a loss of £1. 10s. 9d.
Two years later, from a field of 11 entries, 21-year-old Fulham resident May Jacks beat Edith Gurney of Staines to win the first women's singles tournament. Beckenham's interest had by this time, been thoroughly roused and regular appearances by William and Ernest Renshaw, Bromley residents Wilfred and Herbert Baddeley (first appearance in 1887) and Reggie and Laurie Doherty (first appearance in 1894), ensured that the tournament quickly became an essential stop on the international tennis circuit.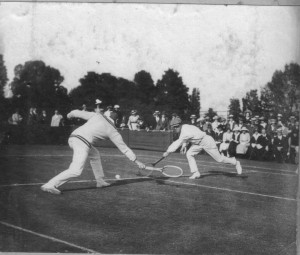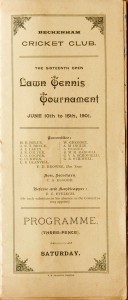 Beckenham welcomed its first foreign competitors from the United States in 1898 and in 1905 Australian Norman Brookes became the tournament's first international champion. It had a garden party atmosphere as a result of spectators being allowed to watch matches only a few yards from the court.
Dozens of legendary players in the history of Lawn Tennis competed at Beckenham Cricket Club, including early champions Dorothea Douglass Lambert Chambers (1901-02, '04, '06, '10-11, '13) and Anthony Wilding (1907, '11-12). Slazenger's provided the tournament tennis balls every year from 1902, while the Challenge Round was abolished in 1911 and an Under 21 event, which became a national championship, started in 1921.
Between the World Wars, stars such as Bill Tilden, Bill Johnston, Elizabeth Ryan, Molla Mallory, Senorita Elia de Alvarez, Helen Wills Moody, Fred Perry and Bunny Austin took part. In 1946, Vera Dace-Thomas became the only Beckenham member to win the title. She played at Wimbledon 15 times and won the 1948 table tennis World Championship doubles title, with Margaret Franks.
Appearances by Gussy Moran, Louise Brough, Maureen Connolly, Althea Gibson, Lew Hoad, Ken Rosewall, Rod Laver, Roy Emerson, John Newcombe, Maria Bueno, Ann Jones, Margaret Smith-Court, Billie Jean Moffitt-King and Virginia Wade helped further develop Beckenham's rich tradition.
When the former Soviet Union joined the International Tennis Federation in 1958, a small delegation was invited to Beckenham ahead of The Championships at Wimbledon. Anna Dmitrieva, 17, won the girls' title 6-4, 6-4 over Katherina Frendelius while Andrei Potanin lost to Earl Bucholz 6-0, 7-5 in the boy's final. A generation later, Olga Morozova would compete at Foxgrove Road and capture the 1973 (d. Cooper) and 1976 (d. Kruger) singles titles.
The Kent All-Comers' Championships was the world's first tournament to have a sponsor, Rothmans, in 1963, after a special dispensation from the Lawn Tennis Association, the governing body of British tennis.
Almost five years later in March 1968 at a Special General Meeting in Paris, Beckenham was awarded the status of an Open event. The club welcomed amateur and professional players to compete in the world's first Open grass-court tournament in June 1968. It was the third Open field in 1968 after the British Hard Court Open in Bournemouth and the French Open at Roland Garros.
In the professional era, title-sponsorship agreements were signed with Rothmans, Green Shield, The Kentish Times and Direct Line Insurance, which ensured a new generation of champions' competed for prize money.
Bjorn Borg, Jimmy Connors, Arthur Ashe, John McEnroe, Pat Cash, Stefan Edberg, Ivan Lendl, Boris Becker, Pete Sampras, Steffi Graf and Martina Navratilova all visited in an attempt to win Beckenham titles and gain grass-court experience. Billie Jean King won the last singles title of her career at Beckenham in 1983. Prize money increased in the 1970s and the singles champions' often received a cheque for £5,000.
Leslie 'Nicky' Paine, a member since 1966 and Beckenham Cricket Club President 1987-89, introduced the idea of interviewing players on the court after each match and, like former Beckenham and Wimbledon Referee F. R. Burrows in 1936, he wrote a booklet on the history of the tournament in its centenary year, 1986.
When a sponsor couldn't be found for the tournament after 1996, the event was consigned to tennis history. But memories endure of golden summers spent watching the world's best.
In total, 33 double winners (those who won the singles title at Beckenham and Wimbledon) had etched their names in Beckenham folklore. An unsuccessful attempt was made to re-establish the tournament in 2005.