Bob And Mike Bryan Spend Time At Beckenham
Bob and Mike Bryan teamed up with Esurance, the American auto insurance provider, for a television advert secretly filmed at Beckenham Lawn Tennis Club on 20-22 May.
The Californian twins, winners of 15 major doubles team titles, spent three days at the multi-sports club in Foxgrove Road working with 'Knucklehead', a London-based production company.
"Tennis in the Modern World", which aired for the first time in the United States on 24 July, is a 30-second advert that looks back at how tennis has developed over the past 100 years.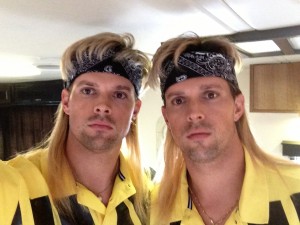 Filmed on the acrylic, artificial clay and grass courts at Beckenham Cricket Club, the Bryans played tennis in 1930s, 1960s and 1990s attire, the week before the start of Roland Garros in Paris.
Mike Bryan admitted, "This is the best commercial we have ever done and the costumes, tennis looks and strokes through the years were truly amazing. There was a very large crew working on the shoot and they had hundreds of extras."
Filming first took place on the artificial clay with the Bryans' dressed in 1960s clothing, followed by Andre Agassi's 1990s florescent gear on the acrylic and then 1930s white flannels on the grass courts.
The Bryans also took the time to learn about the club's former international grass-court tennis tournament, which ran from 1886-1996 in the build-up to The Championships at Wimbledon.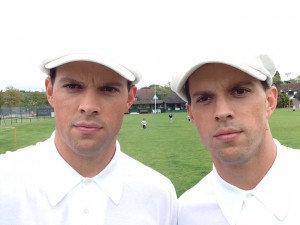 "What a nice club," said Bob Bryan. "The place is dripping with history. The wooden Summer Pavilion is a jewel. What a great facility with so many court surfaces."
Between takes the Bryans undertook interval training across the cricket outfield. Their fitness work obviously paid off as they went on to capture the Roland Garros title for the first time in 10 years.
Having won Wimbledon for the third time in July, the Bryans now have a chance at the US Open to become the first doubles team since Frank Sedgman and Ken McGregor in 1951 to win the calendar Grand Slam.
View YouTube video links:
Tennis in the Modern World (main advert) – http://www.youtube.com/watch?v=C2kZx4DicpM
Tennis in the 1930s – http://www.youtube.com/watch?v=-zDS6Yl_QSQ
Tennis in the 1960s – http://www.youtube.com/watch?v=sFE3Ne2_NmQ
Tennis in the 1990s – http://www.youtube.com/watch?v=-EmPbBGCn9w
Interview with Advert Director – http://www.youtube.com/watch?v=9IiLEu87wCA